Business Services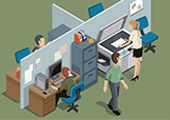 For business, full services are available for Microsoft based networks. Before plunging in, you should evaluate what your needs are.The cost for a full-fledged network for twenty users can (or will) run into thousands of dollars, and in many cases is unnecessary. Lower priced alternatives are available, if your only needs are common file sharing locations, printers, and basic user rights management. In this situation, NAS storage devices are available starting at prices under $400, depending on available storage capacity. Going one step further, Windows Server 2012 R2 Essentials is a good compromise for small business with less than 50 users, since it offers full user management capabilities, printer sharing, and storage, without the additional cost for Client Access Licenses for the server, which typically are priced at $50 per user/seat. The software cost is under $500, and a variety of hardware/software packages are available from vendors such as HP and Dell.  Finally, dedicated cloud servers are available through vendors such as Amazon, Microsoft, and Google, with a monthly cost based on server capacity and bandwidth. This is a good alternative for situations where additional capacity is needed for an existing network.
Backup Solutions - A Must For Business. If you go back ten years, the only choice was on-site backups, and in this case the greater part of the cost was the required hardware. Initially this involved costly tape drives and media, but as hard drive capacity and costs decreased, backup to much less expensive external hard drives became more common. About 7 years ago online backup services emerged, most notably Mozy, as well as hybrid local disk/online systems. While relatively easy to set up, there was one disadvantage – your data accessibility was tied to maintaining your backup account, and if you wanted to switch to a different provider, you essentially were starting from scratch, and also would have to restore any data that you might need that was no longer on any local services. Today there are newer systems available, such as Cloudberry in which your data is stored on your own cloud storage from providers such as Amazon Web Services, Microsoft Azure, or Rackspace. Some of these systems systems also options to include local backup too, usually with a system where data is backed up to your local storage first, and then transferred to Cloud Storage.
New Software Purchase Options In the past this meant a large fee for lifetime use of a single installation and version of an application, such as Microsoft Office. A few years ago, additional options became available, such as student version (Later expanded to include home use), which didn't include all of the features of full-fledged business versions. Shortly after this reduced cost versions, with access limited to the PC they were purchased with, became available. In this case, the software came preinstalled, but activation required purchase of a "key card" with a license key to be entered to enable access. However, in this situation the software couldn't be transferred to a different PC. Around 2014, various versions of Office became available via Office 365, in which payment was  by a monthly subscription fee, with no restriction. The lower priced versions use web based versions of the applications, while others include full versions for installation on PCs, laptops, tablets and smartphones. In this case, a new version is available to you as soon as it is released.  Currently, the pricing for the equivalent of Office 2016 Professional is only $8.25 per month with a 1 year agreement. This is obviously a much better cash flow situation than purchasing a new full version, especially if your payment is done with a debit card tied to a checking account. In addition to Microsoft Office, this payment model is also available for Adobe Products, including Acrobat and Photoshop, and the Quick Books online service.
Email - unless you have an extremely large number of users, I would not advise running your own email server. There are multiple reasons, including hardware, software licensing, backup, and what may be the greatest gotcha, a potentially massive amount of spam traffic coming into your network, and impacting all other internet connectivity. There are various choices, including Google apps/corporate Gmail, Microsoft's online Exchange email, which is also included in some of the Office 365 plans, and other providers, such as Silver Sky and Rackspace. Web hosting services offer various email services, but they may have hidden limitations, such as email storage counting against your total available storage, which can trigger situations, such as all services being shutdown , including your website, if the amount of email stored exceeds your package limits, or the maximum number of messages sent in an hour exceeding limits.